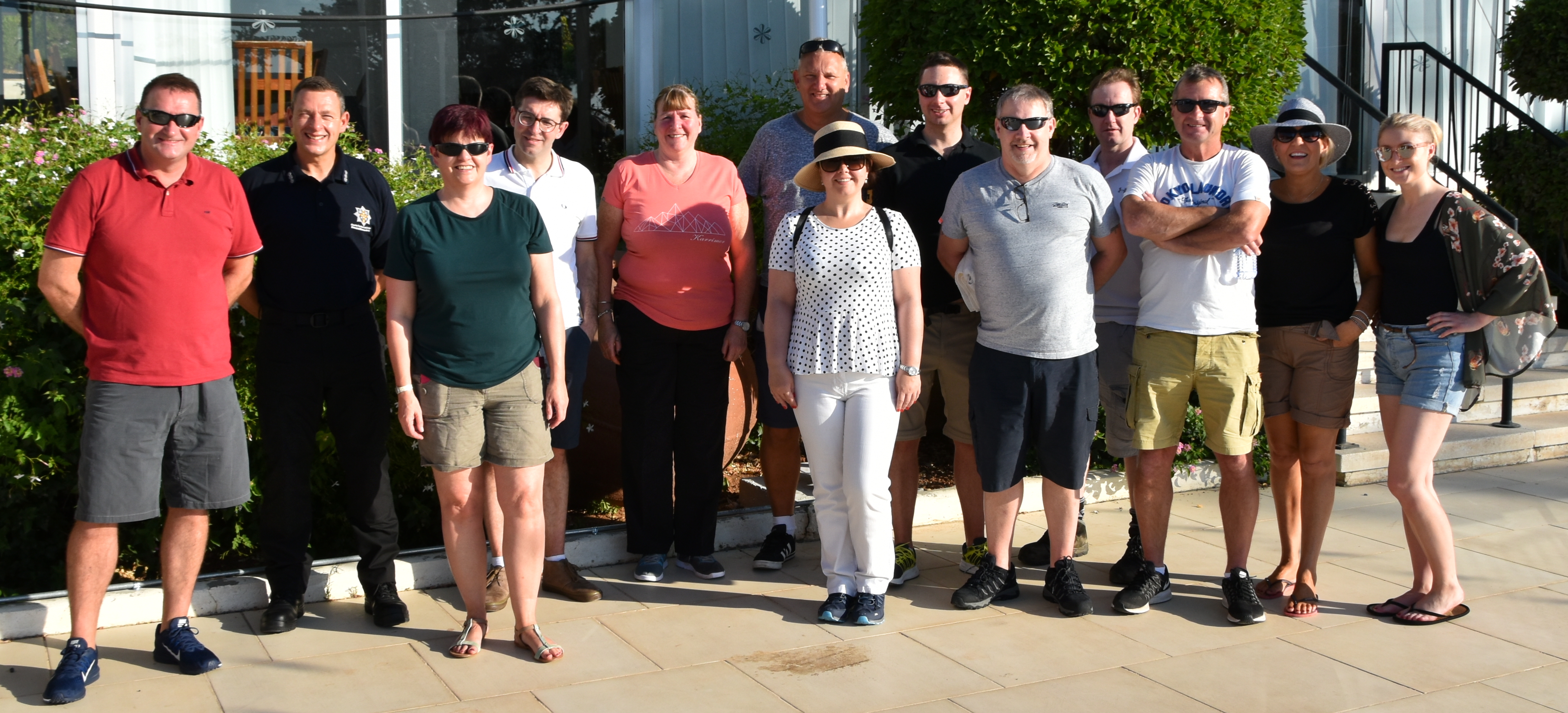 EXERCISE PINESTICK – 71 ENGINEER REGIMENT
This September I was given the chance by the Highland Reserve Forces and Cadets Association to attend Exercise Pinestick in Cyprus and what an eye-opening experience it was!
The purpose of the visit was to educate employers on a variety of levels; whether it be seeing first hand what their employees are taking part in on exercise, better understanding the challenges faced by reservists in employment or finding out ways to support this highly skilled section of our workforce.
We were kindly hosted in the Officer's Mess on the base of Episkopi, where we quickly became fully immersed in the reservists' environment and routines. We were fully briefed at all times and went through our days with military precision. It became clear very early in the trip, that the reservists involved in the exercise were all extremely passionate about their roles and very grateful to their employers for allowing them the time to be involved. These organisations are a shining example to the wider business community and can certainly sing the praises of their involvement.
On observing the reservists (in 40 degree heat!) carrying out complex tasks, it became very obvious that these individuals were gaining a wealth of transferable skills. From leadership skills on dangerous exercises, to planning and carrying out complex construction tasks, all stages of the training required a high degree of resilience, problem solving and people skills which are undoubtably invaluable when crossed over into our workplaces.
We observed the regiment digging a trench in adverse conditions; without a full team and a number of other barriers – a situation which is certain to build solid problem-solving skills along with teamwork and communication skills second to none, not to mention a massive amount of resilience! It's hard to name a workplace in which these skills would not be essential.
Yet these highly versatile and skilled individuals are not always getting the support they need. At Moray Chamber of Commerce, we have made it a key role to support the Armed Forces in several ways and by writing this post, I hope to make a start in fulfilling the role of educating our employers.
I have been in the lucky position of being able to take part in Executive Stretch earlier in the year (blogpost here) and now seeing the reservists first hand, I can fully vouch for how valuable these highly trained individuals are for our economy. We have signed the Armed Forces Corporate Covenant, and hold a Silver Level Employer Recognition award. We would encourage all employers to sign the Armed Forces Covenant and work towards Bronze, Silver or Gold awards where possible. This pledge can help us to support, attract and encourage not only our local reservists, but our wider military community who are integral to our region. From small tweaks such as advertising through "forces-friendly" recruitment agencies, to adjusting HR policies to offer paid time off for individuals to carry out training, we would encourage all employers to look into the covenant and incorporate support for the Armed Forces into their business where possible.
I understand that not all businesses are able to offer paid time off to their reservist employees, but when considering that, for example, the leadership training available to the reservists is worth up to £12k, the return on investment becomes clear.
I feel that this opportunity to collaborate with, invest in and build our potential reservist workforce through top class military training, could help to address a number of skill shortages. This area of the workforce is lying largely under-utilised, but if we work together to do our bit, we could help to dispel misconceptions and benefit both our businesses and our communities.
HRFCA did an excellent job in organising this trip to educate both myself and fellow employers, and I can safely say we all found it extremely worthwhile.
Please see www.hrfca.co.uk/employers/drm to find out more, or contact Michelle (01382 631026), our local HRFCA representative who will happily take you through options and ideas for your business.