Chamber Blog
Celebrating 20 years! We hear from Andrew Anderson
7 June 2021 • Laura Masling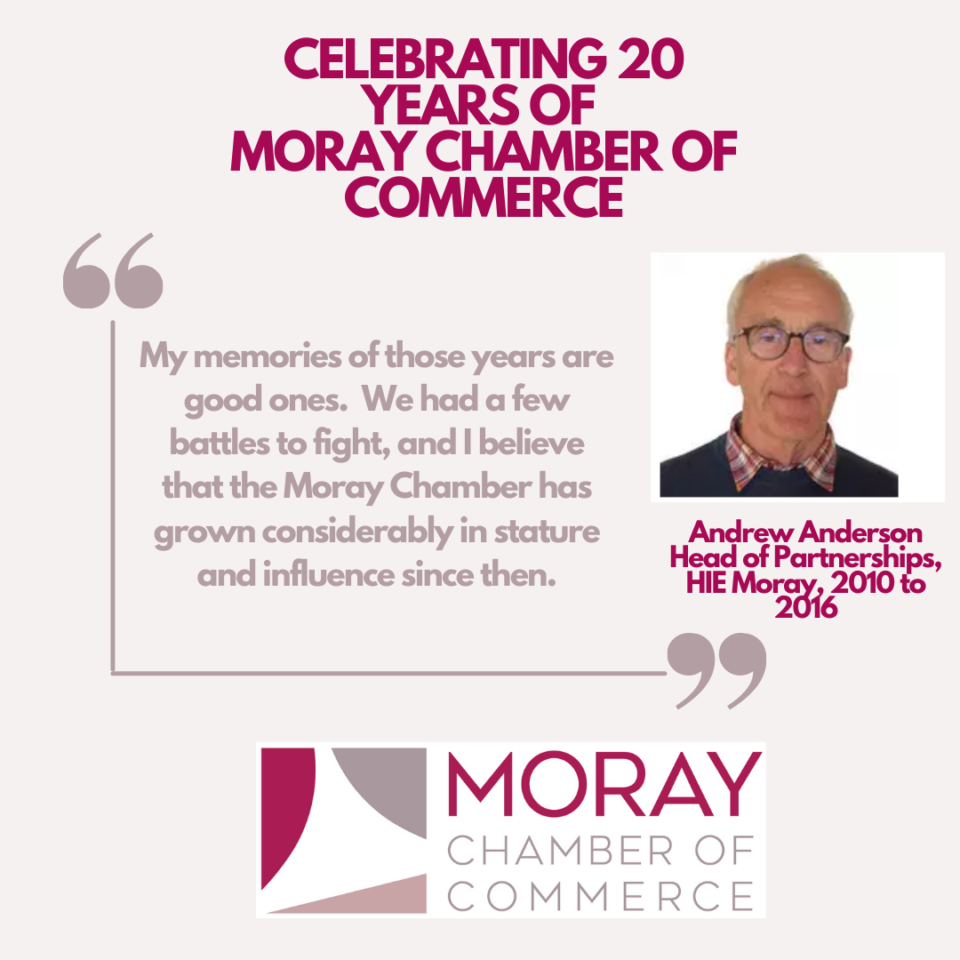 Moray Chamber of Commerce work with many supporting bodies and HIE are one of them. HIE are the economic and community development agency for the Highlands and Islands of Scotland. They have been working with organisations and communities for over 50 years to ensure the region remains successful and competitive.

Andrew provided great support to the founding members throughout his time at HIE and talks about some of the great memories and experience he had with the Chamber during that period.

"During that time major milestones in which the Chamber played a vital part included the Moray Taskforce established to fight the threatened closure of RAF Kinloss and RAF Lossiemouth. That was an exciting and challenging time, and the whole community pulled together to achieve the near impossible result of saving both bases.
I recall how Margery Mclennan (Former Executive Director) helped to "sell" the idea that tourism development could be integrated with the work of the Chamber and that really was key to the success of Moray Speyside. Moray Speyside Tourism was formed too, firstly with Cameron Taylor at the helm then Laurie took charge in his own dynamic style. We created 2 important strategic documents which shaped tourism and culture development in Moray, and Margery and the Chamber were important contributors to them.

Another standout in my memories from that time was entertaining UK and European tourism chiefs with Margery and Cameron in the private dining room in Brodie Castle. They were blown away by both the surroundings and the quality of the Moray-produced food and whisky. The whole package was irresistible!
In summary, my memories of those years are good ones. We had a few battles to fight, and I believe that the Moray Chamber has grown considerably in stature and influence since then."
- Andrew Anderson
(Head of Partnerships, HIE Moray, 2010 to 2016)