Chamber Blog
Celebrating 20 years! We hear from Sarah Medcraf
1 July 2021 • Laura Masling
Next, we recognise our current Chief Executive, Sarah Medcraf for all of the hard work that she has done and continues to do for the Chamber. Sarah's passion for supporting and connecting local businesses is widely noticed and appreciated, and she provides such a strong driving force behind the Chamber. As you can see from Sarah's quote, collaboration is at the core of success, and the more we work together we all grow. Thank you to Sarah for all of your past and continued work. Even when faced with the challenges of the past year, she continues her strong focus on protecting, connecting, and supporting businesses in Moray.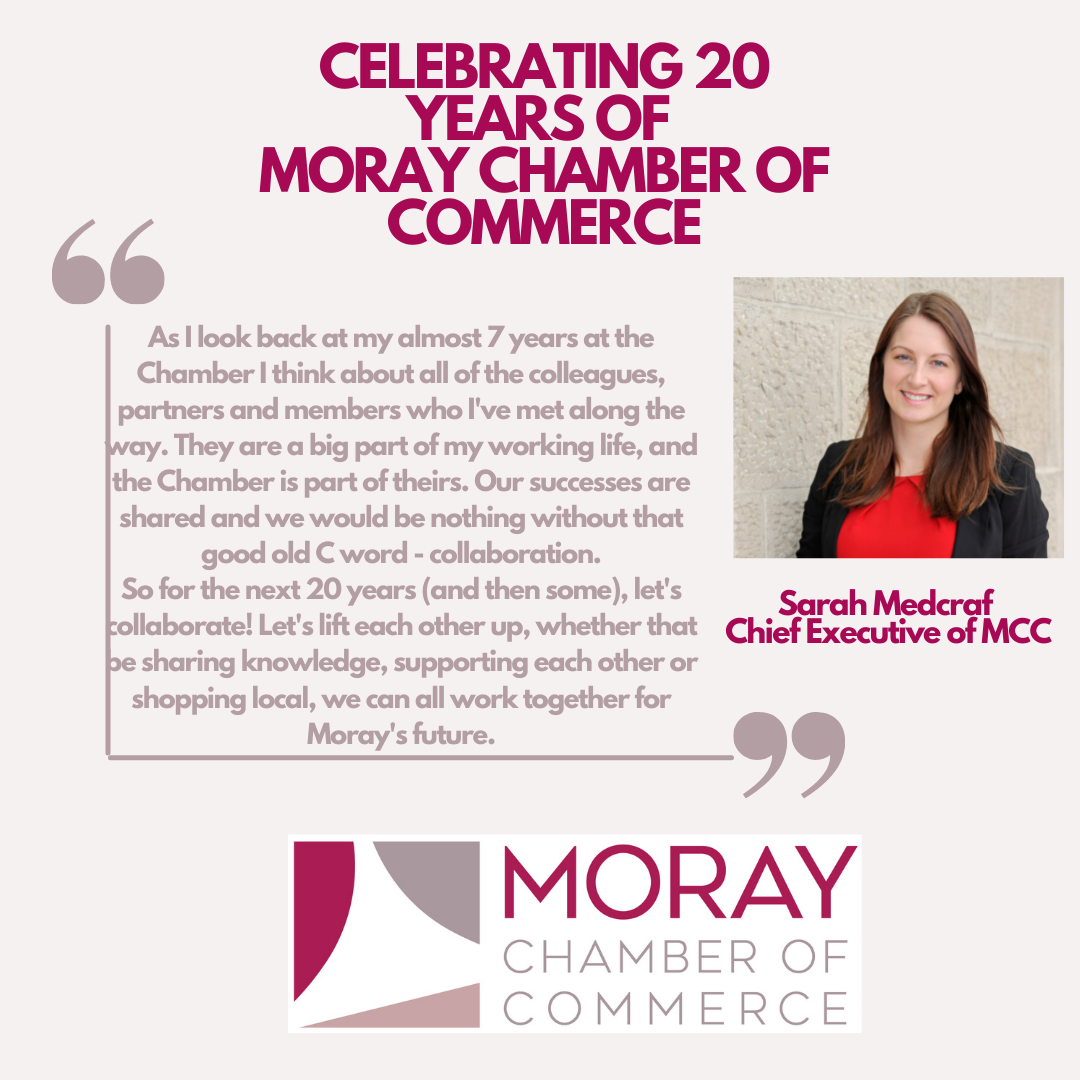 "I started working at the Chamber in its 14th year. In the run up to our event the following year celebrate 15 years, I remember clearly colleagues across the business community were saying very similar things - that we were 'still here' or 'going strong.'
At the time, still being relatively new and somewhat naive about the role I had, I couldn't understand these pessimistic tones. Well of course we were 'still here' why wouldn't we be? It was not until I had settled fully in to the role I truly understood what was meant by those comments. It wasn't a reflection on me, or any of my predecessors, it was an honest observation of the tough business environment that we operate in and the buy in for what we are there to do.
Being in business is tough, and being one that supports a whole region of businesses varying in size and sector, is challenging. But it is so rewarding. We've had some highs and some lows over the last 20 years and I am proud that we have faced them together.
As I look back at my almost 7 years at the Chamber I think about all of the colleagues, partners and members who I've met along the way. They are a big part of my working life, and the Chamber is part of theirs. Our successes are shared and we would be nothing without that good old C word - collaboration.
So for the next 20 years (and then some), let's collaborate! Let's lift each other up, whether that be sharing knowledge, supporting each other or shopping local, we can all work together for Moray's future. As you all know, I truly believe that Together We Grow.
Finally just a quick thank you to all past and present members, directors, presidents and staff. You are all part of Moray Chamber's 20 year journey and the contributions that you have made have really shaped your local Chamber in to what it is today."