Chamber Blog
Celebrating our 20th birthday!
1 June 2021 • Laura Masling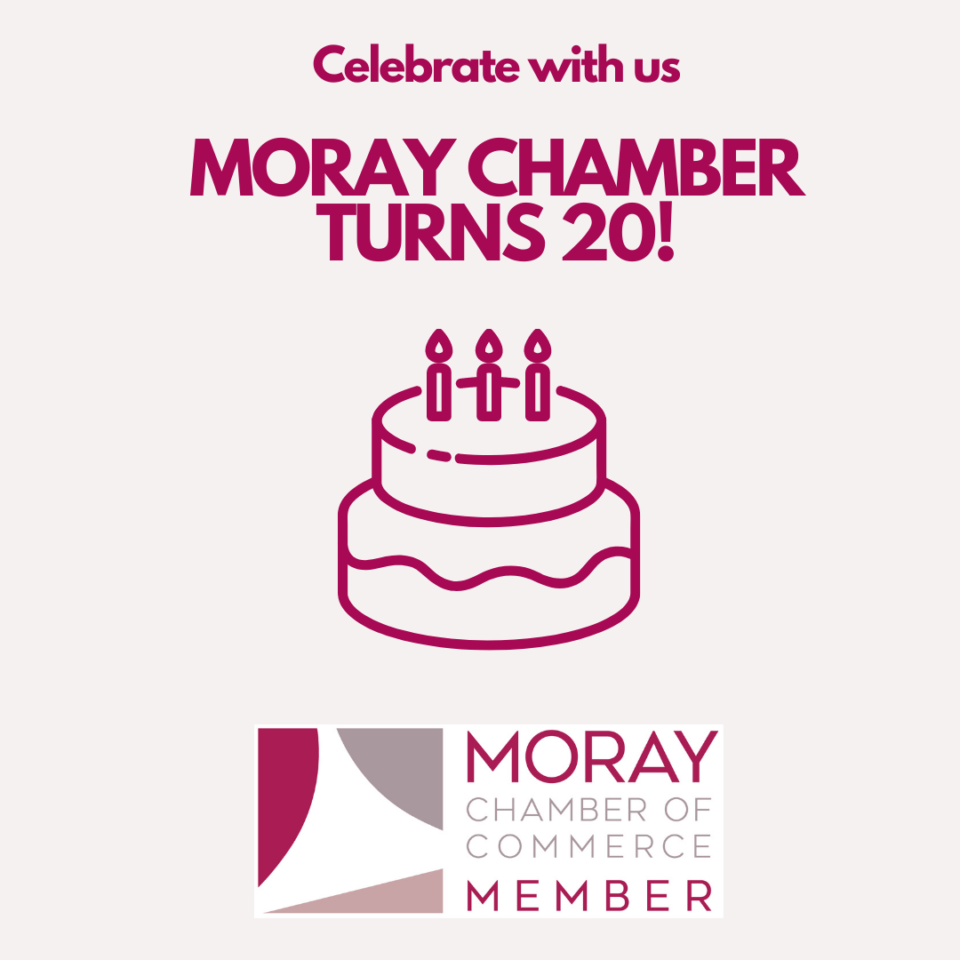 June is our birthday month and we are celebrating 20 years of Moray Chamber which is quite a milestone.
If you didn't know our history and how we started, we wanted to share it with you

How things began for Moray Chamber of Commerce
Moray Chamber of Commerce is an organisation that's here for every size of business, from those that export their products around the world, to national chains, to the smallest local enterprise. The organisation as it is today is focused on having a fresh outlook on business and delivering a dynamic, supportive, informative and professional service to every one of its members.
The story of Moray Chamber of Commerce began back in the late 90's, when there was significant interest from local businesses in forming an organisation that would represent the interests of the Moray business community. Local businessman Bill Robertson put his not inconsiderable clout behind the drive and eventually, in 2001 The Moray Chamber of Commerce was founded. At the outset, 32 businesses committed to funding the venture, and by the time of official launch, the Chamber had 85 members.
In the early days, the founding members had a sense that they had taken an important step, for a small area like Moray, to join an international club.
There was also great lobbying success in that early period. The Scottish Government proposed the introduction of a Small Business Bonus and Moray Chamber members were successful in spotting a serious flaw in the proposed legislation. Through its membership of Scottish Chambers of Commerce, Moray Chamber was able to persuade the Scottish Government and the legislation was duly amended to the benefit of a wider business community.

Moray Chamber today
These days the core purpose of Moray Chamber is to energise the local economy by supporting, connecting, protecting and educating local businesses. We're working hard to develop our reputation as the 'go to' networking organisation in Moray Speyside, by proactively connecting and supporting businesses across the region. We think that one of the best ways we can add value to the local business community is to enable effective business relationships between businesses of all sizes, types and at all stages of development.
As part of this, we're committed to delivering training and events tailored perfectly to members' needs. And after all these years, we're still focused on making sure we continue to be 'in the know' regarding national and local business issues, so that we can champion Moray Speyside's interests, lobby local and national government on relevant issues, and continue in the footsteps of the founding members.
As membership has grown, the office based team has also grown and we're very proud of our professional, timely, can do attitude and approach! What's more, we're a friendly and welcoming team, so don't hesitate to pop in and see us if you have any questions.
Collectively, members tell us that the most important things we offer them are:
The opportunity to make meaningful connections through vibrant engagement and networking opportunities
Consistent, professional advice and support leading to the confidence that we are always there for them
A membership fee which is very good value for money
A 'sense of belonging'
Thank you to all our members, and past and present board members for your valued support. Here's to another 20 years!