Moray Growth Deal – What is it and what does it mean for my business? – Tourism, Culture & Transport
November 5 @ 10:00 am

-

11:00 am

Free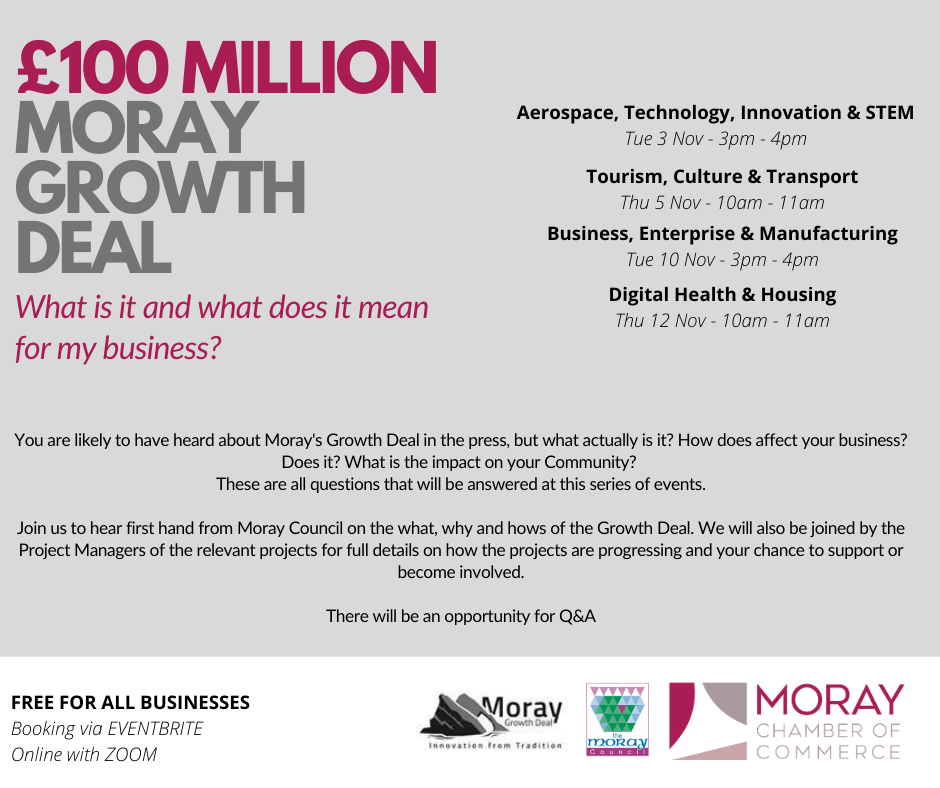 £100 Million Moray Growth Deal
What is it and what does it mean for my business?
You are likely to have heard about Moray's Growth Deal in the press, but what actually is it? How does affect your business? Does it? What is the impact on your Community?
These are all questions that will be answered at this series of events.
Join us to hear first hand from Moray Council on the what, why and hows of the Growth Deal. We will also be joined by the Project Managers of the relevant projects for full details on how the projects are progressing and your chance to support or become involved.
There will be an opportunity for Q&A
Brief Overview
Tourism, Culture & Transport
Thu 5 Nov – 10am – 11am
Cultural Quarter
Refurbishment of Grant Lodge to create a high quality heritage attraction; designed to increase the number of visitors to Moray and encourage people to stay longer in the area.
Refurbishment, extension, and rebranding of the Town Hall to house a multi-purpose theatre/ performance space, small cinema, rehearsal rooms; to create an improved cultural offering and support local creative industries.
Provision of a high quality hotel; to address a much-needed and long acknowledged market gap in the region's tourism infrastructure, and open up Moray's tourism industry to new markets.
Aims to; Increase tourism in Moray by providing a focal point to draw in additional visitors and signpost them to attractions right across the area, and provide an enhanced cultural and evening economy offering which will help to attract and retain young people in the area.
Bus Revolution
The development of an "uber-style" app to enable customers to track the position of buses and book journeys within a reasonable response time.
An investment in quality green fleet (electric buses), to increase the flexibility and hours of operation of on-demand bus provision across Moray, with additional facilities such as on board Wi-Fi, charging facilities etc.
On-demand service 4am to midnight (Mon-Sat) and 7am to 10pm (Sun) for anyone travelling within the Moray area. Service integrated with commercial routes. Booking to service time as close to real-time as possible (max 1 hr).
Potential partnership contract with larger employers in the area for workplace transport.
The aims are to; Increase the number of people using public transport to get to and from rural areas to places of work, education, etc., Reduce the environmental impact of transport in the area, and Reduce the number of people facing transport barriers to employment, education or recreation.
OPEN TO ALL BUSINESSES