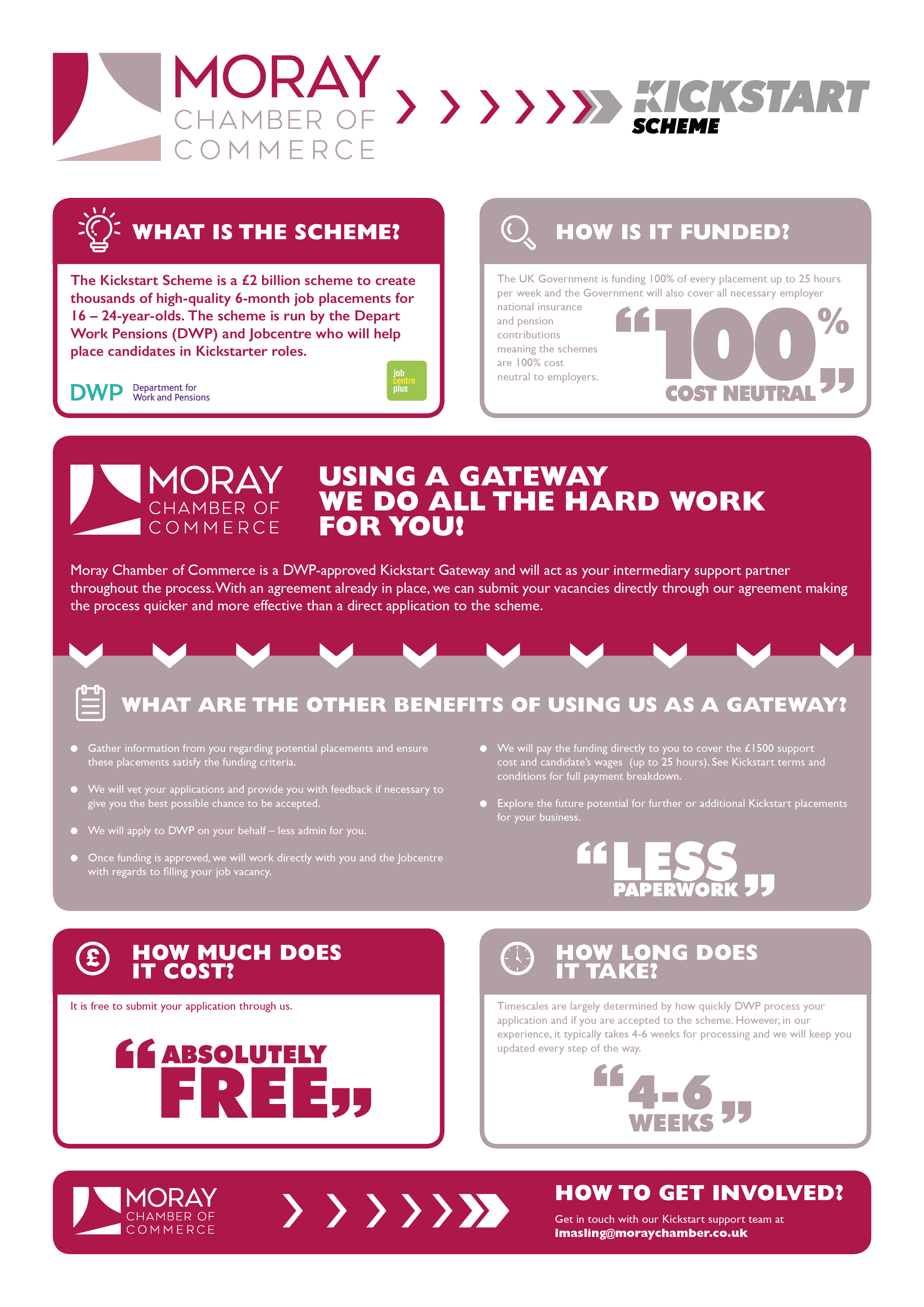 * UPDATE: We are no longer taking new applications.
You are still able to apply directly at Apply online for a Kickstart Scheme grant - GOV.UK (www.gov.uk) the deadline for new applications directly is the 17th December.
*UPDATE: The Kickstart Scheme has been extended until March 2022 which means all placements must have started by this date.
To tackle youth unemployment, the UK Government has announced that through the Kickstart Scheme, funding is available for employers to create a 6 month, 25 hours a week work placement for young people currently out of work, and on Universal Credit aged 16-24.
We would like to ask if your Moray business would consider taking on a young person through this scheme to start within the next 6 months or so?
The funding would cover the following:
100% of the relevant National Minimum Wage for 25 hours a week (based on their age at the end of the placement)
the associated employer National Insurance contributions
employer minimum automatic enrollment contributions
an additional £1,500 for the employer per job placement available for setup costs, support and training
You can take on as many young people through the scheme as your business can support. There will be no need to advertise the job placement as the Department for Work and Pensions will manage this and refer eligible young people direct to you and you will have the opportunity to interview them, and if successful, recruit them in to your business. The positions must not replace a current role or cause existing employees or contractors to lose or reduce their employment.
Currently only registered companies or charities are eligible to apply. You must have a Companies House number or Charity number. We are lobbying to encourage the expansion of this scheme but at the time of writing,those without a number are not being considered.
Moray Chamber of Commerce is a gateway for Moray employers for the scheme and work direct with the government. You will sign in to a partnership agreement with Moray Chamber of Commerce and they will be responsible for paying you the £1500 start-up fee and the employees' wages. Payment of wages will be in arrears from DWP so you may need to take your business cash flow in to consideration. In turn you will ensure all necessary information/documentation has been filed with Moray Chamber of Commerce.

Please get in touch with us to discuss how we can support your Kickstart Application.