Member Insights
Enviro-Bin Clean
April 2021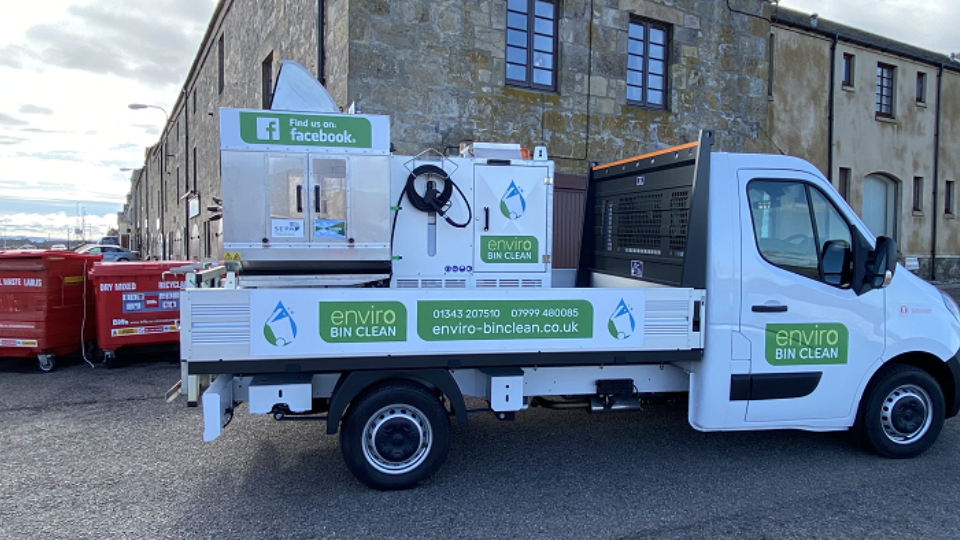 We caught up with Steve Morrice from Enviro-Bin Clean for an insight in to their business
Please name the main purpose of your business.
Enviro-Bin Clean we are a family run company based in Elgin, we are specialists in Commercial and Domestic Wheelie Bin & Bin Storage area sanitization, the only accredited Wheelie Bin Sanitizers in the North East of Scotland. We handle and sanitize the smallest Caddy bins through to the 1280ltr commercial wheeled bins which are used within NHS Practises to most Hospitality establishments all using the latest technology and procedures.
Wheelie Bin sanitization is now considered an important factor towards meeting the minimum standard for hygiene best practice and can benefit all businesses especially the Hospitality / Health / leisure sector, regardless of size.
What are the benefits of operating in Moray?
Being a new start company we looked at what is not available to the residents and businesses of Moray "an environmentally friendly Wheelie Bin Sanitisation company" Moray is the ideal location for us as we operate from Cullen to Nairn and being right in the middle is just perfect. The opportunities within Moray are also amazing with so much industry in Moray from local shop to the large factories, Moray is a thriving community.
How do you connect to your local customers?
We use social media Instagram / Facebook along with our website www.enviro-binclean.co.uk we find the website very good for different reasons firstly the client Domestic or Commercial can view the tab relevant to them and the request information, secondly we have a lot of detail as to the importance of Wheelie Bin Sanitisation.
Why are you part of Moray Chamber of Commerce?
The great networking opportunities available. During my first zoom call with the Moray Chamber of Commerce it was great to listen to other businesses on how they have developed and all the experience on that one call was truly amazing. I also really like the support and assistance you receive, and if they don't know the answer they have a brilliant support group who can assist where needed.
What are you most proud of?
Being the only accredited Wheelie Bin Sanitisation Company in the North East of Scotland.
Finally, name one misconception that people have about your business.
Wheelie Bin cleaning / sanitisation has a stigma assigned to it, and its about changing the paradigm on how people think 99% of people think of Wheelie Bin cleaning as a person comes round with a power washer washes the bins turns them upside down to dry and then leaves, Enviro-Bin Clean has brought the Wheelie Bin Sanitisation into the 21st Century the days of power washing have gone.
Until now a fully water recyclable automated mobile hot wash system with misting jets has not been readily available in the area of Moray, along with our environmentally friendly biodegradable cleaning products we are able to kill 99.9% of all known bacteria E-Coli, Aspergillus, Fumigatus ,Salmonella, Coronavirus, Influenza and Norovirus, whilst also being kind to the Environment.
Find out more about Enviro-Bin Clean at their website Wheelie Bin Cleaning Moray | Domestic & Commercial Cleaning Services