Eight Lands Luxury Distillery and Estate Tour in the Heart of Speyside
25 June 2021 • Laura Masling
The perfect experience for gin and vodka aficionados and those wanting to delve a little deeper into what Speyside has to offer.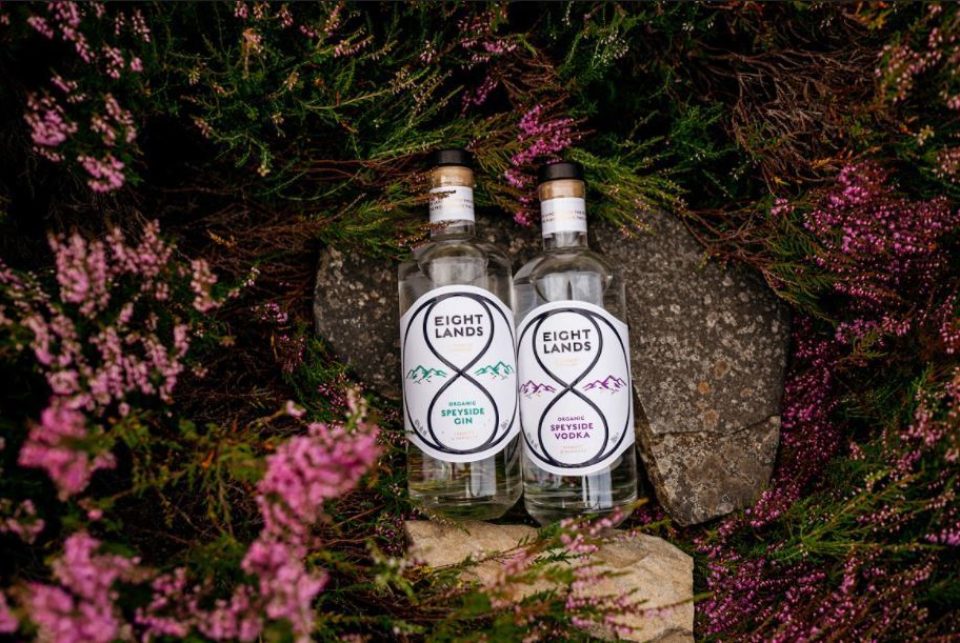 Fresh from winning Gold medals for both its organic gin and vodka at this year's San Francisco World Spirits Competition, Eight Lands has launched VIP Tours for those looking to upgrade their visit to the Speyside region of Scotland. The immersive experience will allow guests to experience stunning vistas, local produce and Eight Lands' award-winning gin and vodka.
Glenrinnes is situated in iconic Speyside, surrounded by some of the world's best-known whisky brands: Glenlivet, Glenfiddich, Mortlach, Balvenie, Aberlour and Macallan. It is also home to Eight Lands – the multi-award-winning, organic, Scottish gin and vodka which launched in June 2019. Eight Lands is distilled and bottled in the family-owned Glenrinnes Distillery, sat at the foot of Ben Rinnes mountain near the freshwater spring which is used to give the superior quality of the Eight Lands products.
Starting from £150p/pp the half-day tour will introduce groups of two to eight people to the stunning Glenrinnes Organic Estate before spending some quality time with the team at the striking and contemporary Glenrinnes Distillery.
Guests begin their adventure by jumping in one of the estate vehicles with Estate Manager, Alister Laing. They will take an off-road journey to the top of the imposing Ben Rinnes mountain where you can see the eight surrounding counties which inspired the Eight Lands name. Organic accredited for 20 years, the Glenrinnes Organic Estate tour includes visits to the pedigree herds of cattle and even a chance to feed the friendly stags, Alfie and Henry.
The second part of the tour takes place in the eye-catching Glenrinnes Distillery, with a tutored Eight Lands spirits tasting and tour led by Meeghan Murdoch, Head of Distilling and Operations. The experience starts with an introduction to Eight Lands and a tour of the production space. Guests are invited to get close to the locally-made 1,000 litre pot still named 'Rebecca' and the two ten-plate column stills that contribute to the superior quality of Eight Lands organic gin and vodka. They are then taken up to the comfortable tasting room, which overlooks the beautiful production space and has views up the glen, where they can take part in a tutored nosing and tasting of the delicious gin and vodka.
After the tasting guests will be served a light lunch featuring locally-sourced produce, tea and coffee, and finally enjoying one of Eight Lands' "ritual" serves – frozen vodka alongside a scone with clotted cream and jam.
For those wanting to stay on and make a full day of it, they can take advantage of everything that the estate has to offer with add-ons including Clay pigeon shooting, Argocat driving and a leisurely three-course meal paired with wines, for an additional cost. An Eight Lands VIP Tour is sure to be a memorable occasion and incredible experience for spirit lovers and adventurous folk alike. See you in Speyside!
For more information, please contact Gabby Wickham gabby@curaconn.com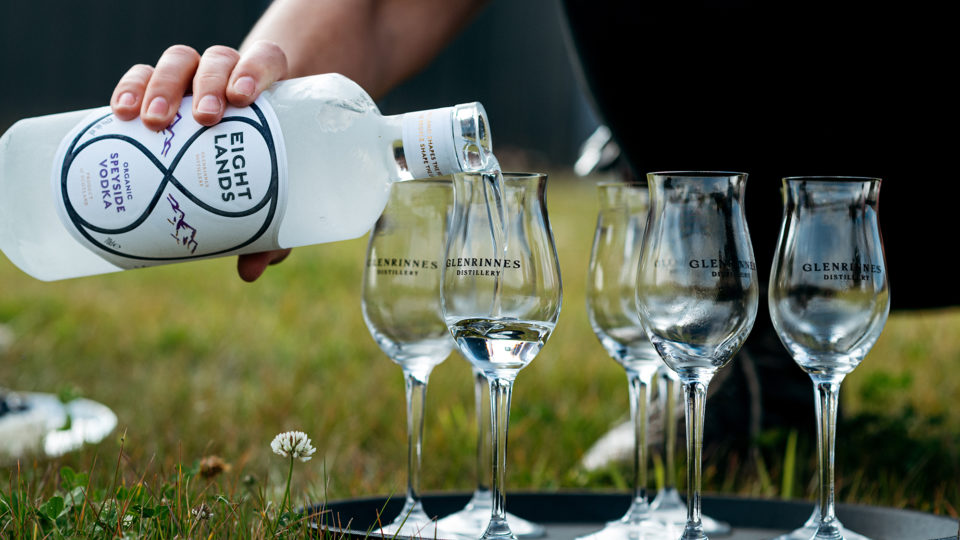 Eight Lands VIP tours
Half day visit:

Start at Estate Office
A tour of Glenrinnes Organic Estate, including feeding the deer, and drive to the top of Ben Rinnes mountain (weather dependent)
with our Estate Manager. Flasks of tea/coffee to enjoy on tour.
Tutored Eight Lands spirits tasting and tour at Glenrinnes Distillery with the team.
Light lunch accompanied by G&T or V&T.
Eight Lands "ritual" scone and vodka serve with tea or coffee.
1 x 5cl "mini" bottle of Eight Lands Gin and 1 x 5cl "mini" bottle of Eight Lands Vodka each to take home plus 10% discount in
shop.
Add-ons:
Clay pigeon shooting
Argocat driving
Catered three-course meal, followed by coffee, in our tasting room, hosted by our Head of Distilling and Operations and Estate Manager
Wines available from our partner
Eight Lands Organic Speyside Gin – 46% ABV, RRP: £39:


Made with Speyside spring water and purely organic ingredients, Eight Lands Organic Speyside Gin was distilled in a beautiful alembic head pot still. Eleven botanicals give this London Dry gin its unique flavour, including sorrel and cowberries, which grow wild on the Glenrinnes Estate. Made using both pot and column stills, this gin is pure and crisp with a delicacy to it that comes from the careful production process.
This gin is a product of time, knowhow and the natural gifts of the land.
On the nose: Big juniper, backed up by fresh pine and citrus.
On the palate: Spicy juniper balanced with tart red berries and citrus.
On the finish: Hints of black tea and warm spice.
Awards: San Francisco Spirits Competition 2021: Gold; International Spirits Competition 2021: Silver; World Gin Awards 2020: Gold; IWSC 2020: Bronze; Gin Masters 2019: Master "Ultra Premium"; Gin Masters 2019: Gold "London Dry"; Gin Masters 2019: Gold "Organic"; Highlands and Islands Food & Drink Awards 2019: Best Distilled
Eight Lands Organic Speyside Vodka – 42% ABV, RRP: £37:

Eight Lands Organic Speyside Vodka is as clear and pure as the Speyside spring water used to make it. The process involves organic barley and wheat, a two-stage fermentation process, and a combination of pot and column stills. The method is unusual and time-consuming, but that's what it takes to create a vodka with genuine character.
On the nose: Well-rounded marzipan and vanilla pods.
On the palate: You can taste the quality grain, leading into butterscotch and coconut.
On the finish: Long and smooth with a hint of spice on the palate.
Awards: San Francisco Spirits Competition 2021:Gold; International Spirits Competition 2021: Silver; IWSC 2020: Silver "90 points"; Vodka Masters 2019: Gold "Ultra Premium"; Vodka Masters 2019: Gold "Smooth"; Vodka Masters 2019: Gold "Organic"