Chamber News
Member Offer | teclan "Ask the experts"
11 August 2021 • Laura Masling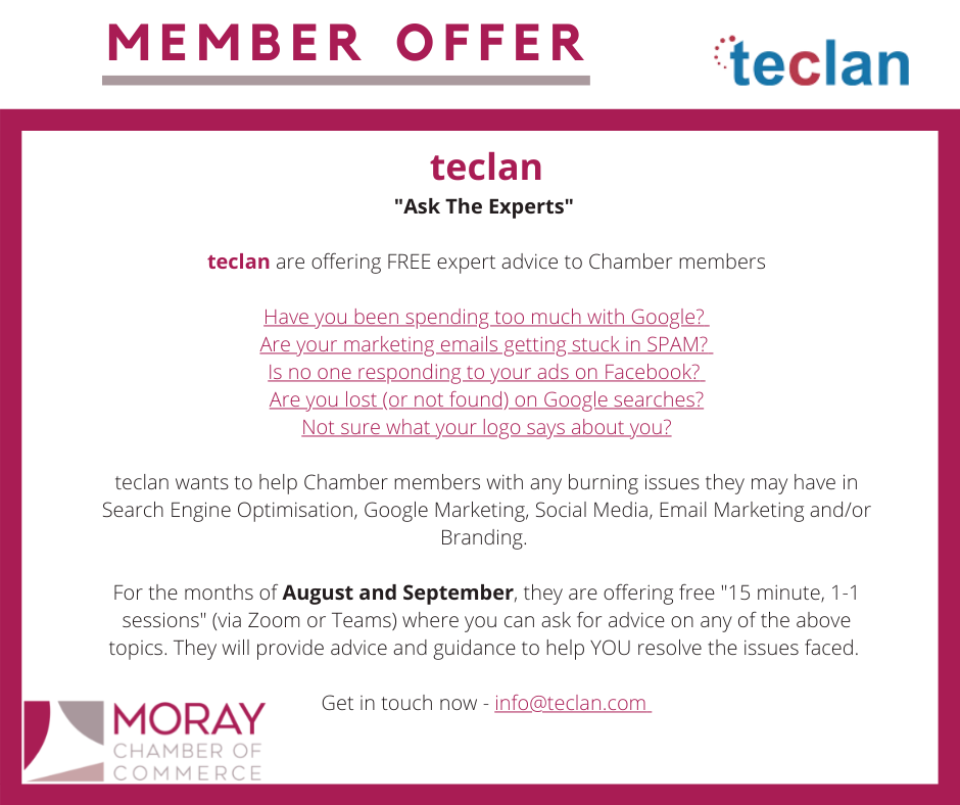 Ask the experts
teclan are offering FREE expert advice to fellow Chamber members
Have you been spending too much with Google?
Are your marketing emails getting stuck in SPAM?
Is no one responding to your ads on Facebook?
Are you lost (or not found) on Google searches?
Not sure what your logo says about you?
teclan wants to help fellow Chamber members with any burning issues they may have in Search Engine Optimisation, Google Marketing, Social Media, Email Marketing and/or Branding.
For the months of August and September, they are offering free "15 minute, 1-1 sessions" (via Zoom or Teams) where you can ask for advice on any of the above topics. They will provide advice and guidance to help YOU resolve the issues faced.
Get in touch now - info@teclan.com
Questions should be submitted via email - teclan will then confirm a date and time of the 1-1, a minimum of 48 hours ahead. This gives their expert the opportunity to assess the question and research further if required. There will be an opportunity at the 1-1 to ask a follow up question on the same topic.
Plus, if a Chamber member chooses to engage teclan to work with them, they will give them 10% off their teclan management costs on the first campaign.
TS&Cs - teclan will offer a maximum of 4 1-1s per day, Monday-Friday during August and September. Times will range between 10am and 4pm and they will try to arrange times to suit the members. Offer is also available to Inverness and Caithness Chambers so 1-1s will be offered on a first come, first served basis.
Digital Marketing Agency Scotland - Your Expert Digital Marketing Team (teclan.com)