Chamber News
Award-winning Eight Lands Organic Speyside Vodka arrives in Canada
9 September 2020 • Sarah Medcraf
Eight Lands award-winning organic vodka is distilled and bottled in the heart of Scotch whisky country at the Glenrinnes Distillery under the watchful eye of Montreal-born Meeghan Murdoch in her role as Head of Distilling and Operations. The brand's Organic Speyside Vodka is now available for the first time in Canada, having recently been launched in Quebec's SAQ stores.
Eight Lands was launched in 2019 and is named after the eight different counties that are visible from the top of Ben Rinnes. Meeghan joined the company in January 2018, bringing 25 years' international experience across brewing, wine making and distilling.
With her Montreal roots, Meeghan has encouraged Canadian connections for the brand since launching its two products in June 2019. Meeghan grew up in Lachute where her parents met, her mother being British and her father being third generation Scot. This blend of Canadian and Scottish influence, coupled with her significant industry experience, has helped Meeghan to work with the Founders to create and shape Eight Lands spirits into what they are today.
Meeghan Murdoch commented: "I am delighted to see Eight Lands Organic Speyside Vodka launching with SAQ across Quebec. As a Canadian, now living and working in the spirits industry in Scotland, I have big ambitions for the brand in Canada. As the demand for high quality and organic spirits continues to grow, I am keen to see Eight Lands recognised as one of the leading organic spirits in the market."
Eight Lands Organic Speyside Vodka – 42% ABV: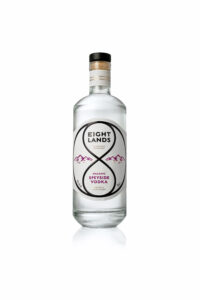 Eight Lands Organic Speyside Vodka is created using an unusual two-stage fermentation process. The process involves organic barley and wheat and a combination of pot and column stills.
The method is unusual and time-consuming – Glenrinnes does exactly what it takes to create a vodka with genuine character.
On the nose: Well-rounded marzipan and vanilla pods.
On the palate: You can taste the quality grain, leading into butterscotch and coconut.
On the finish: Long and smooth with a hint of spice on the palate.
Winner of three Gold medals at The Spirits Business Vodka Masters Awards 2019
Awarded 'Exceptional' in the Difford's Guides Certification 2019
Eight Lands Organic Speyside Vodka is now available at SAQ at $63.50 (Link here).
Simply speak with the team at your local store quoting our unique product number: 14445772
If you want to know more about Eight Lands spirits, please visit www.eight-lands.com