Chamber News
Board and Council Member Changes 2017
26 January 2017 • Sarah Medcraf
As of our recent AGM, we have some changes to our Council and Board members;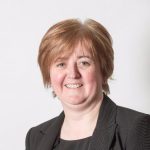 Carol Stewart
Carol, Agriculture & Business Relationship Manager for The Royal Bank of Scotland, has now been elected President, taking over from Alistair Simpson who has stepped down after nearly 3 years. Carol manages a mixed portfolio of trading and agricultural businesses within the SME marketplace providing on-going support to help them grow their business and achieve their ambitions. Carol is responsible for matching the needs and aspirations of clients with products and services offered by The Royal Bank of Scotland and providing additional support by working with her network to allow customers to grow and understand their business. Carol has also previously been the president of the Rotary Club of Elgin and is currently their Health & Safety and Protection Officer.
James Johnston
James, Director of Home Bakery (Buckie) Ltd, has now been elected as Vice-President, taking over from Carol Stewart. HomeBakery(Buckie) Ltd is a family business with over 50 years' experience employing a skilled local workforce in their modern bakery and retail shops. They are very proud to supply the Moray Coast town of Buckie and surrounding area with the best of baking for over three generations.
Mark Dunscombe
Mark, owner of MJD Systems Ltd, has also been elected as a Council Member. Mark Dunscombe formed MJD Systems Ltd in March 2000, in response to a demand from local businesses for quality network management and troubleshooting, without paying the high costs that can come with central belt support. MJD Systems Ltd have a policy of only using Engineers who have been trained in Microsoft Approved Training Centres and as such can assure their customers of the best quality of work and support.
Richard Main
Richard, the Moray Sales Executive for Highland Office equipment, has now been elected as a council a member. HOE was established in Inverness in May 1974 and we have always been proud of our excellent reputation for high sales integrity and first class after sales service. A full list of Board and Council Members can be found
here