Chamber News
Family fighting cancer encourages others to seek support
11 October 2019 • Sarah Medcraf
An Aberdeen family touched the hearts of over 400 people at a charity event on Saturday.
The family of four took part in the CLAN ball at P&J Live on Saturday 5 October. Jackie Mackenzie, mum to Megan and Harry Junior, has been diagnosed with terminal cancer, after fighting the illness for the last four years. During that time, the family, including Jackie's husband Harry, have been supported by Aberdeen-based CLAN Cancer support.
During the event, the family took to the stage to thank CLAN, and daughter Megan, 21, a theatre and drama student, sang 'Diamonds are Forever' for the audience. The guests were also shown a video which gave the family the opportunity to explain their story and how CLAN has supported them, and to encourage other people to seek help.
[caption id="attachment_3106" align="alignleft" width="483"]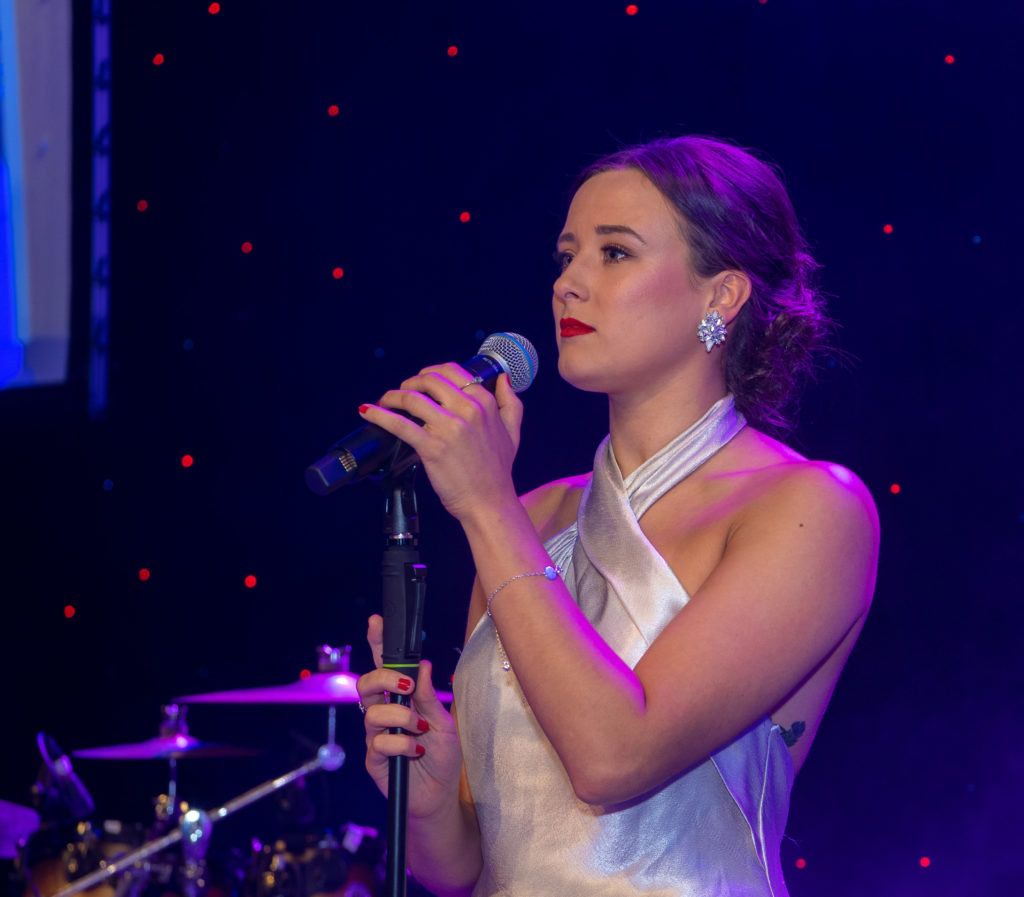 Daughter Megan received a standing ovation for her rendition of Diamonds are Forever[/caption]
Jackie Mackenzie first went to CLAN after she received a breast cancer diagnosis in 2015. After leaving Aberdeen Royal Infirmary with her husband Harry, the couple didn't know where to turn.
"We couldn't stand outside crying and needed time to process. I felt alone, even with Harry there, I felt alone," she said.
The couple, who met at school, headed down the road to CLAN, where they talked with head of cancer support services, Iona Mitchell, who helped them come to terms with the diagnosis and explore how to best tell the rest of the family.
Over the next three years, both Jackie and Harry received support whenever they needed it, and their son, Harry Junior, regularly accessed the Children and Family Services at CLAN, which works to help children and young people come to terms with a cancer diagnosis in the family.
Harry Mackenzie said: "Our whole family was keen to be at the ball and to make the video because we want everyone to know how important CLAN has been to us at this difficult time. We are so proud of our son Harry who spoke in front of over 400 people, as he is so grateful for the support he has received himself."
Jackie added: "Cancer is incredibly unfair and can tear families apart, but thanks to CLAN we are closer than we have ever been. We have a strong understanding of the way each other feels – which has been so helpful while we have dealt with numerous different cancer diagnoses, and several rounds of radiotherapy and chemotherapy
"Cancer is awful, but the work CLAN does helps you to regain some control over your life and the Children and Families Services plays a vital role in helping the whole family to live, happily, despite the terrible circumstances.
"My family has been so brave and I am so proud of them, and CLAN has been instrumental in helping us to get to the place we are now".
Harry,Junior 15, said: "Mum's diagnosis has affected me quite a bit and the support of CLAN has helped me a lot. Without CLAN, it would have been a different story."
Megan, 21, "I moved away as Mum was diagnosed, but for me it's reassuring knowing that CLAN will support my family when I can't. CLAN is also there for me in London – just a phone call away. I wish there was a CLAN in London to spread the beauty of CLAN with everyone."
Dr Colette Backwell, chief executive for CLAN, commented: "The Mackenzie family have been so brave to open up their lives not just to CLAN but to the 440 people we had in the room at the ball. Jackie, Harry, Megan and Harry Junior articulated clearly how CLAN has helped them through counselling and wellbeing treatments and our guests were very impressed and touched by their strength and courage.
"Over the past year, CLAN has produced, in association with Hydrasun, six videos featuring clients who have accessed the services at CLAN, and each one has featured a client who wanted to stand up and share how CLAN has helped them deal with very difficult and upsetting times. The Mackenzie family feature in the last of the videos and we are extremely grateful for their honesty and warmth."
Based in Aberdeen, the charity covers the whole of north-east Scotland, Moray, Orkney and Shetland. CLAN has a presence in Ballater, Banchory, Buckie, Crimond, Elgin, Inverurie, Lossiemouth, Turriff, Kirkwall and Lerwick.
The Mackenzie family story can be seen at
https://youtu.be/Ju0b1YabRmI
.