Chamber News
RECOVERY LOAN SCHEME EXTENDED
21 July 2022 • Sarah Medcraf
The UK Government has extended the Recovery Loan Scheme (RLS) by a further two years, with applications opening in August 2022 – when further details on the scheme will also be released.
The loan was originally introduced in April 2021 to support businesses across the UK as they recovered following the coronavirus pandemic.
To date, the scheme has provided funding to almost 19,000 businesses with an average of £202,000 in support. British Business Bank figures show that £4.5bn has been lent as a result of the scheme.
The structure of the scheme remains essentially the same.
The scheme supports access to finance for small businesses;
The maximum amount of finance available will be £2 million per business; and
The guarantee coverage that the Government will provide to lenders remains at 70%.
A new addition to the criteria is that lenders may now require a personal guarantee from the borrower, in line with standard commercial practice.

It is now essential that businesses in need of this extra support can access the scheme as quickly as possible to make sure they get help before it's too late.
Further details on how to apply for the extended RLS will be communicated as they are published
The Recovery Loan Scheme (RLS) is a government scheme aimed at supporting access to finance for UK businesses. It gives lenders a government-backed guarantee against the outstanding balance of the facility.
The Recovery Loan Scheme, originally launched in April 2021 to help businesses recovering from the Covid-19 pandemic, has supported almost 19,000 businesses with an average of £202,000 in support.
Scheme supporting access to finance for small businesses extended for two years
Major backing for businesses facing increased pressures on company finances
Nearly 19,000 businesses supported since the scheme launched in April 2021
The extension provides further government support for businesses grappling with cost pressures and adds to measures already announced by the Chancellor, such as increasing the Employment Allowance, slashing fuel duty, and introducing a 50% business rates relief for eligible high street businesses.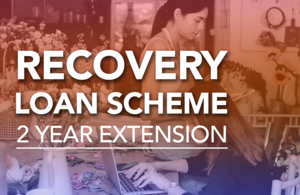 Business Secretary Kwasi Kwarteng said:
"Small businesses are the lifeblood of the British economy, which is why we are determined to support our traders and entrepreneurs in dealing with worldwide inflationary pressures.
"The extension of the Recovery Loan Scheme will help ensure we continue to provide much-needed finance to thousands of small businesses across the country, while stimulating local communities, creating jobs and driving economic growth in the UK."

Chancellor of the Exchequer, Nadhim Zahawi, said:
"Small businesses are the engines of economic growth, supporting jobs and livelihoods in communities right across the UK.
"The Recovery Loan Scheme has supported thousands of businesses over the past year and this extension will ensure they continue to access the finance they need to navigate the months ahead."