Chamber News
SCC QUARTERLY ECONOMIC INDICATOR: Q4 2021 REPORT & PRESS RELEASE
14 January 2022 • Sarah Medcraf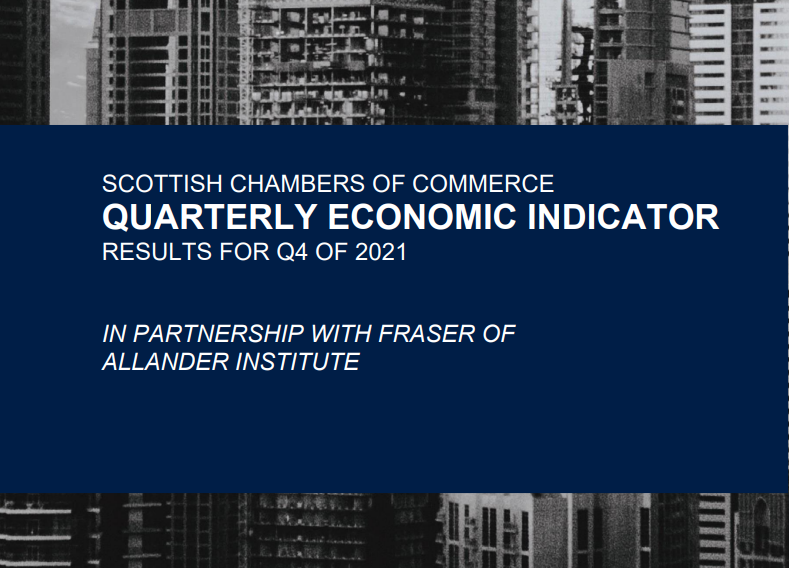 ECONOMIC RECOVERY AT RISK AS COVID CONCERNS CURTAIL BUSINESS GROWTH

Scotland's predicted rapid return to pre-pandemic levels of economic growth has been put at risk as businesses report increased concerns over rising costs, recruitment challenges and concern over the return of COVID-19 restrictions, the latest findings from a leading quarterly survey led by the Scottish Chambers of Commerce (SCC) reveals.
The SCC's Quarterly Economic Indicator (QEI) for the fourth quarter of 2021 indicates that the strong growth and reported rises in confidence have been dampened by increasing cost pressures, caution over investment and employment and continued economic uncertainty caused by the prospect of increased restrictions.
KEY FINDINGS:
Surging inflation: With inflation rising to 5.1%, its highest rate in 10 years, concern over the business impact increased across all sectors in the survey, reaching record highs. The financial and business services sector (FBS) reported a 17% increase from Q3.
Declining profitability: Businesses are reporting negative net balances for both cashflow and profits, both of which are down on Q3. The manufacturing, retail and tourism sectors all experienced a decrease, demonstrating the sustained challenges presented by a difficult trading environment and increased costs to doing business.
Labour market pressures: Sectors including construction, FBS and retail are starting to experience increased recruitment difficulties and labour shortages with the end of the furlough scheme seemingly having little impact on increasing the availability of labour.
Muted export growth: Ongoing issues in the domestic and global supply chain continue to impact on Scottish export sales and orders. All sectors reported marginal improvements in the past quarter, however, overall export growth remains weak, with the impact of Brexit continuing to lead to delays, certification challenges and increased shipping costs all of which are intensified by the wider impact of Covid-19.
Volatile business confidence: Whilst the findings show a rise in business confidence, due to research being carried out prior to the reintroduction of restrictions in December, this is largely anticipated to have plummeted again.
Stephen Leckie, President of the Scottish Chambers of Commerce said:
"The Scottish Chambers of Commerce Quarterly Economic Indicator remains one of the longest standing and most accurate barometers of business sentiment in Scotland and this latest survey shows that the white heat of business activity that followed the lifting of restrictions in the summer months is now starting to cool.
"Business confidence continued to rise in the past quarter, however, this remains highly volatile as the Omicron variant triggered the return of COVID-19 restrictions plunging Scotland's businesses back into a spate of economic limitations and curtailments.
"The continued strong return to economic growth many businesses might have expected in the next quarter is now clearly at risk and the recovery could now take longer than hoped for due to continued uncertainty over what economic deterrents are likely to remain in place and for how long.
"As Scotland adjusts to 'living and working with COVID-19' and the threat of new variants, it's vital that the Scottish Government develop an economic recovery plan, in collaboration with business, which allows the economy to reopen fully and ends the continuous threat of a return of restrictions, allowing businesses to make a comeback in the months ahead."
On rising business costs:
"Many businesses have had a tough winter and the rising cost of doing business is now also dragging on growth with increasing cost pressures for raw materials and goods driving down profitability. The intensifying inflationary pressures are a major concern for businesses, with rising costs of fuel, energy, raw materials and the removal of VAT and business rates reductions for hospitality and tourism increasing pressure on firms.
"Rampant inflation is now starting to outpace wages and if this imbalance continues to increase further in 2022, real household incomes will start to be affected, reducing consumer spending, and weakening Scotland's overall economic activity."
On international trade and exports:
"Exports remain frustratingly lacklustre which is a concern given exports remain a crucial part of a sustained economic recovery and internationalisation of Scotland's economy. Alongside the removal of Covid-19 restrictions, businesses are looking towards the UK Government's new free trade agreements, continued negotiations to remove barriers to exporting, and the possibility of more routes to new markets.
"Scotland also has significant labour market challenges and the UK Government must work closely with the Scottish Government to do all it can to ensure people can access rapid retraining opportunities for in-demand jobs and issue temporary visas for occupations and sectors experiencing labour shortages."
Commenting on the results, Mairi Spowage, Director at the Fraser of Allander Institute, said:
"These results today signal important optimism in the underlying strength and resilience of the economy, albeit before the emergence of the Omicron variant.
"The emergence of this new variant, which is now the dominant variant of COVID-19, led to fresh restrictions on the retail hospitality, leisure and culture sectors being put in place in December. While many of these are not as severe as restrictions earlier in the pandemic, it will have been a huge challenge for many businesses operating in these hard-hit sectors, particularly through the crucial Christmas period.
"The emergence of this variant and the associated restrictions do have the potential to dent the optimism that many felt about growth prospects for 2022.
"Despite the familiar feel of December 2021, it is important not to forget how far we have come in the last 12 months. The economy is in a much better place than feared a year ago, underpinned by the delivery of the vaccination programme and the advancements made in understanding and treating the virus.
"Despite growth faltering in the Autumn due to rising prices and supply chain constraints, expectations are still much better for the outlook in 2022 and beyond, compared to what was feared earlier in the pandemic. The removal of the furlough scheme, based on the evidence we have seen to date, has not had the negative impact on employment and unemployment that was feared.
"However, what is emerging are early signs that Scotland's recovery may be lagging behind the UK as a whole. The impact on employment and wages in the North East stands out as a particular concern, given the importance of high wage oil and gas jobs in that region.
"What is clear is that we are not past the point where government support for various sectors is likely to be required in order to reduce long-term scarring on the economy."
You can read the full report here