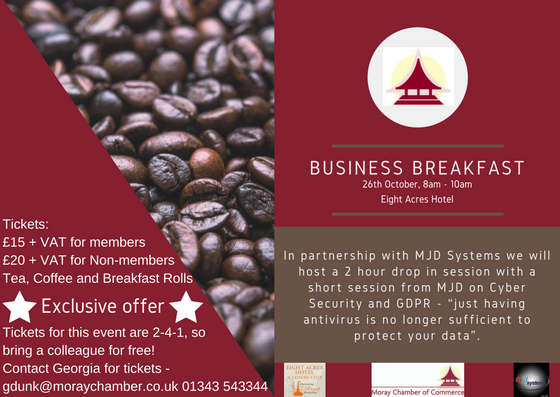 As 'everyday' chamber life is back in full swing after September's Awards Dinner, we cannot believe how busy we still are. The business calendar in Moray is still jam packed with a host of popular events among some newer attractions planned, but all with one objective ; making a difference to the business community in Moray.
As the chamber, it is important to us that we 'Raise your profile', 'Lobby for your needs' and 'save you money'. I am of the strong belief that the next period will achieve these objectives, but not without help and support; collaboration is the key. We are hosting our first Business Breakfast for a while on 26th October, and we hope it to be one of many. We are hoping to host a series of these, with specific themes for some meaningful networking opportunities. For the first one, we have teamed up with MJD Systems. They are going to speak about a subject which will be relevant to all sectors of business – Cyber Security and Data Protection. Laws and legislations (that often go straight over my head) are changing and developing  and will create rules which will change the way that we share things, the way that we notify our mailing lists and the way that we sell our products. Collaborating with MJD will allow us to bring these updates to our members in a clear concise way from experts in the industry. Tickets for this event are 'Buy One Get One Free'. This is because we want to widen our network and encourage the notion that once you're a member of the chamber, these events are open to any of your employees, in any of your departments.
Also in the pipe line is Moray Business Week 2017 (MBW17). This week hopes to answer some of the needs that businesses have and fill in gaps in knowledge to ensure that Moray responds to recent developments and prepares for changes to come in the future. – Connect Digitally, Grow Globally. This year's week is taking a slightly different structure, starting on Wednesday 8th November and finishing on Wednesday 15th November. The book ends of MBW17 are events put on from within the Chamber – The Moray Speyside Tourism Conference which will focus on Future Proofing your business, and Moray Chamber of Commerce Awards Lunch, which aims to celebrate our SME's, Social Enterprises and Tourism Businesses. Sandwiched in between these events are a host of digital seminars, workshops and tutorials supplied by our wonderful partners and best of all, tickets are FREE!
So as you can tell, there is plenty to be keeping us at the chamber busy in these times, but I hope that you agree, the events discussed above assist in us meeting our objectives, as well as 'Making a Difference to the Business Community in Moray'. None of these events would possible without the collaboration of organisations within the region. Offering support, knowledge and guidance to businesses in Moray is the drive behind all of this collaborative work.
It's very important that we remain in touch with the business community, that we know what you want and offer the services that you need. Please do not forget, that our door is always open and we are always ready to listen to any suggestions, needs or ideas that you may have.
We look forward to seeing you all soon,
Georgia