Chamber Blog
Celebrating 20 years! We hear from Margery McLennan
25 June 2021 • Laura Masling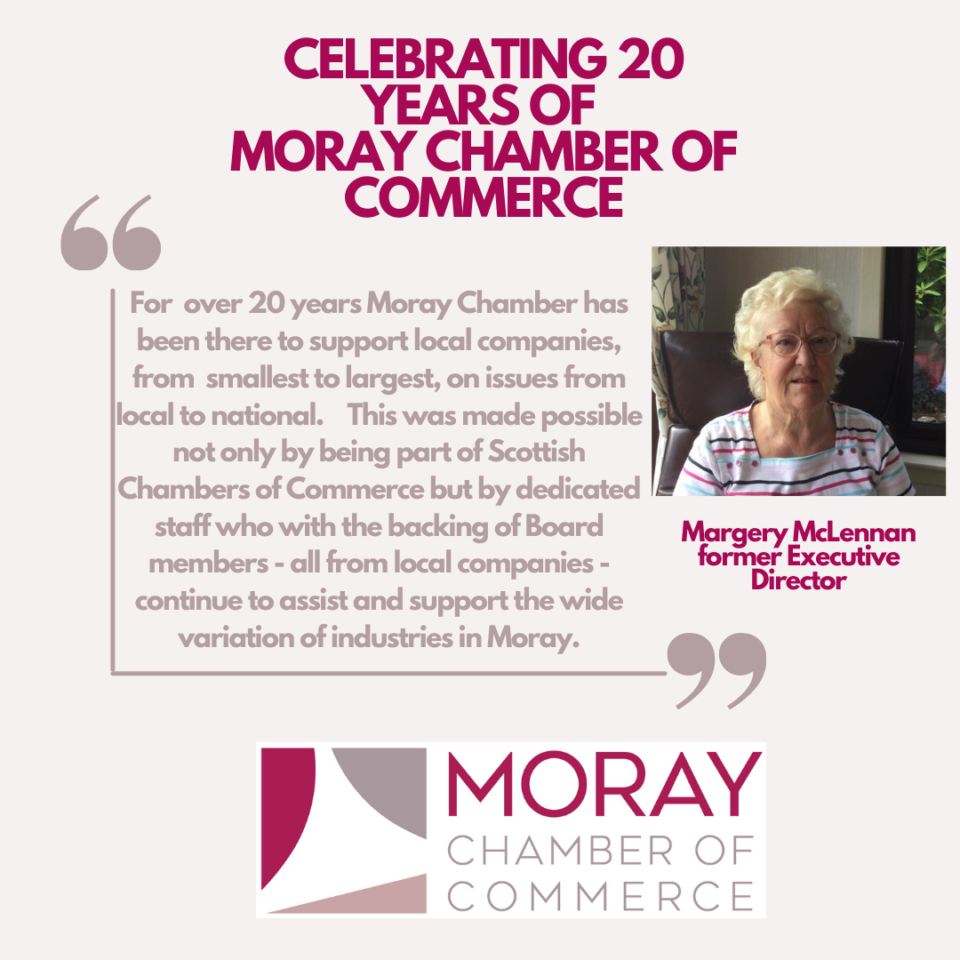 Next we hear from Margery McLennan as she shares her experience as former Executive Director at the Chamber.
"Congratulations Moray Chamber of Commerce - 2001 seems a long time ago now and oh how you have grown.
The first major spurt of growth for Moray Chamber was on the appointment of Lesley-Ann Parker as the first full time employee and in 2011, being a well respected, local, non political organisation the Chamber was approached to front the campaign to Save RAF Lossiemouth . Our local defence bases are so important to businesses throughout Moray and we were delighted when everyone's hard work paid off and, of course, we are now seeing further growth at Lossiemouth.
Later an office move to Elgin made the Chamber more visible and accesssible to local companies and allowed us to grow our membership even further. Following an approach from Highlands & Islands Enterprise, and lengthy discussions, it was agreed that the Chamber would create a new Tourism organisation for Moray and with funding from both HIE and the Moray Council, and considerable work by Cameron Taylor, MoraySpeyside Tourism was born. Laurie Piper took over from Cameron after 3 years and has gone on to successfully launch Visit Moray Speyside as Moray's Tourism Business Improvement District and Destination.
For over 20 years Moray Chamber has been there to support local companies, from smallest to largest, on issues from local to national. This was made possible not only by being part of Scottish Chambers of Commerce but by dedicated staff who with the backing of Board members - all from local companies - continue to assist and support the wide variation of industries in Moray.
I was fortunate to work with many inspirational people during my time with Moray Chamber and am proud of the support they offered to the local economy over the years. I wish Sarah and her team continued success going forward - thank you and keep up the good work."